Get a dentist-approved smile from the comfort of your home!
✔ WELCOME PEARLY WHITES: Having a shiny and healthy set of teeth has never been easier!
✔ PLAQUE NO MORE: Eliminate all tooth impurities and grin with pride!
✔ CLEAN GALORE: Made to be portable, take it everywhere with you and show off a million-dollar smile!
✔ GIFT WORTHY OF A SMILE: Surprise your loved ones with the perfect gift for any occasion!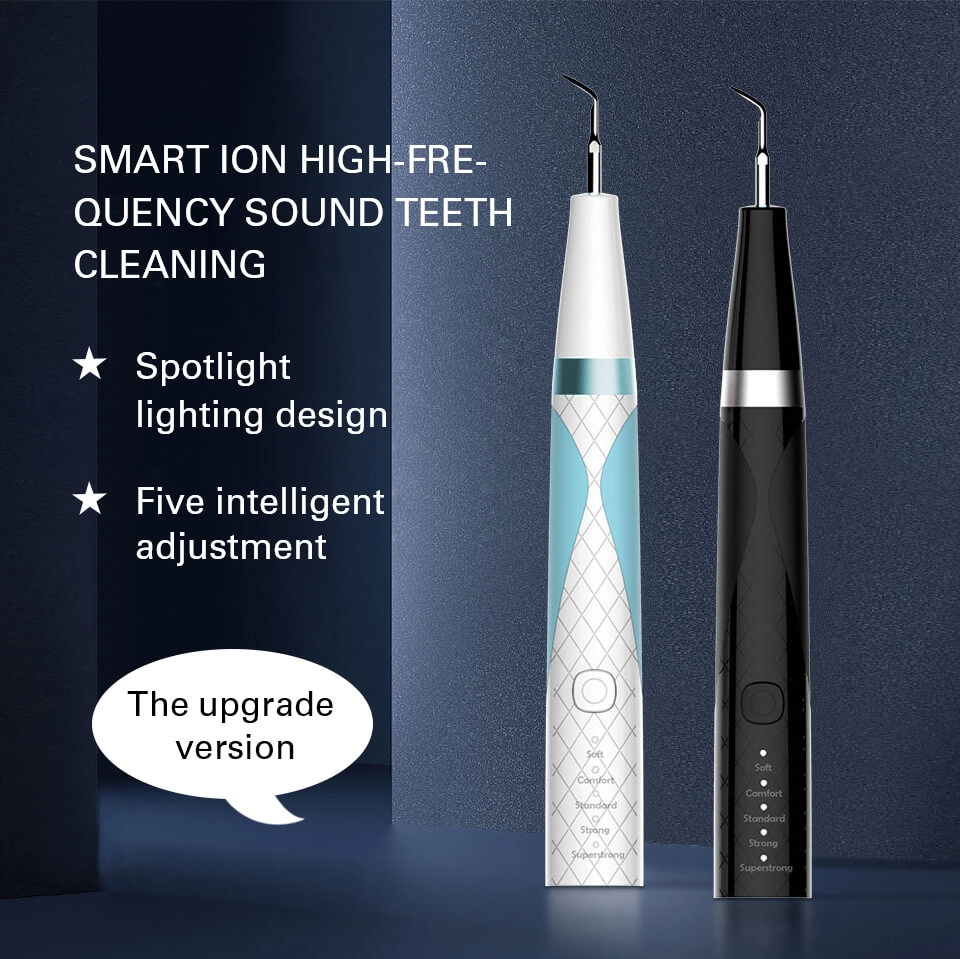 Features and benefits:
Genuine Ultrasonic vibration can vibrate millions of times per minute.

Integrated design eliminates traditional bulky machines.

Convenient to maneuver & easy to grip.

Rechargeable.

Portable for travel.

IPX6 waterproof.

Get clean, healthy teeth & gums.

Get professionally cleaned teeth just like at the dentist.

Saves time and money.

Made of high-grade alloy steel.

Easily remove tarter, tea stains and smoke stains.

Whitens teeth

FDA approved quality

For pets too; get one for all your family members.
Don't be fooled by others claiming theirs to be an ultrasonic teeth cleaner. Ours is the genuine Ultrasonic teeth cleaner.
Only ultrasonic teeth cleaners,
breaks up tarter, stains & calculus below the gumline and between tooth crevices.
uses super high enough levels (ultrasonic) of sonic vibrations where regular sonic cleaners produce 50 to 100 times less.
brush head does not rotate or move.
does not require water.
only need to touch or wave at each tooth to deep clean (30 seconds in each mouth quadrant).
less intrusive for pet use while getting a deep clean.
are not sold in physical stores and extremely rare to find a genuine one, in online stores.
Boost your confidence
with a Hollywood worthy smile! Bring out the best side of yourself! Get a new step into your beauty regime and don't look back! Smile proudly and take on the day while shining brightly!
Everyone deserves a healthy smile! Get your friends and family the perfect gift for birthdays or Christmas! Have them step into a brighter tomorrow!
Have teeth as bright as your future!
Don't miss a chance for
pearly white teeth!
Made from lightweight materials, it's perfect for carrying it with you, wherever you go! Put it in your bag or your suitcase and take it on vacation or on business trips! Charged via magnetic suction, you can virtually use it in anywhere!
How it works:
Our Ultrasonic tooth brush and scalers, use transducers, that convert electricity into mechanical energy using specialized ceramics that change shape with electricity, which generate millions of vibrations per minute.
These vibrations produce microscopic high and low pressure areas. This results in cavitation, which might sound bad for teeth, but it means the formation of bubbles filled with water vapor rather than air. The vibration stretches and compresses these tiny bubbles until they implode and release a burst of heat and pressure. This energy loosens stuck particles such as tarter and stains, even from below the gum line, but it happens on a tiny scale with enough water as coolant so it's very un-noticeable.
Many find it more pleasant to have their teeth cleaned this way and less with the scraping.
Simply hold the tip of the appliance on the tooth for a few seconds; no water or toothpaste needed.
No need to move it like a toothbrush or scrape as much.
After using the Ultrasonic Toothbrush/scalers, you can brush using your regular toothpaste and toothbrush, to bursh & rinse away the debris and residue that's removed by the Ultrasonic Toothbrush/scalers.
If you want to use toothpaste with the Ultrasonic Teeth Cleaners, only use toothpastes made specificaly for Genuine Ultrasonic teeth Cleaners.
Solve all your dental issues in an instant! Use it to get
rid of all tooth impurities
in one easy step!
Eliminate plaque buildup
,
smoking residue
or even
dental calculus
for
whiter teeth
!
This is your perfect unique
chance for sparkling pearly white teeth!
Give your friends and family the perfect gift of health and confidence.
Package includes:
1 Ultrasonic teeth cleaning unit with spotlight

1 Built-in 650 mah long lasting battery

1 ultrasonic toothbrush attachment

3 different sizes ultrasonic tarter remover(scaler) attachment

1 magnifying dental mirror

2 different variety manual dental picks

USB magnetic charging unit with USB cable

Instructions manual
Give it a try!
Get yours today.
-------------------------------
Limited Quantity Available
Will Sell Out Fast!
If the item you want is SOLD OUT, please send us an email & we'll let you know when it's back in stock, or if it is permanently out of stock. Be sure to include the specific details of the item you want.
Note: You can track your order using the "Order Look-up" link on the Home Page
Order NOW to get FREE SHIPPING!