Limited quantity
Easily and instantly, correct your posture with our Slump Fixer body brace.

For adolescents as well, for early prevention of humpback (scoliosis).

It's an ultra comfortable body brace designed to help you sit and stand straighter in the most discrete way possible.



Benefits:
Fully adjustable. Comfortable and easy to wear at home, work or leisure.
It can be worn easily under your clothing for fast and hidden posture correction.
10 high-energy magnets contact the spine and lumbar region for added and continuous pain relief.
Great for recovering from injury.
Provides gentle back support; pulls shoulders back to the correct posture to train your muscle and spine memory over time and maintains it.
Helps to reduce heartburn & digestive problem by opening up the diaphragm.
Non-restricting unisex design for men or women.
FEATURES:
Back and shoulder brace
Corrects posture
Comfortable and discrete design

Breathable neoprene & elastic material

Lined with cotton for softness & to prevent skin irritation

Fully adjustable for longer or shorter backs

In Black, Nude or White color

In sizes S, M, L, XL, or XXL

Hand wash
If your size is between 2 sizes or are unsure, always choose a size larger. For example, between a size S & M, choose size M, or between M & L, choose size L. You can always adjust the straps to fit tighter.

See what some of our customers have to say.....

"Good shoulder wear and I notice that I am less tired at the end of the day at the back."

"Delivery 3 weeks. Took the size s for my 11 year old child, came up perfectly. Not hard, it just does not let you lower your shoulders."

"Quality is excellent for such a price. Seller recommend!"

"Good quality, but Small is child size. recommend Medium for adult."

"The goods are satisfied. Received within 2 weeks. Posture holds very well. Made of high quality. Thank you very much to the seller!"

"Ordered L. size. My weight is 138 lbs. Height 5'-8'."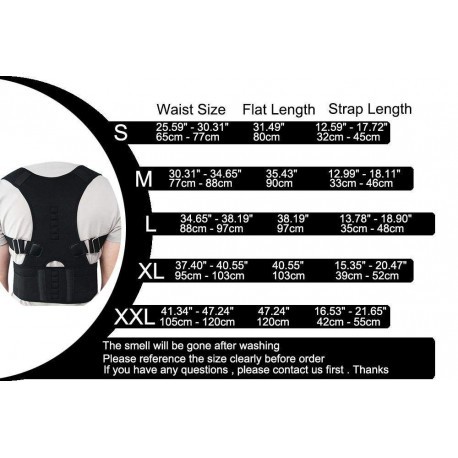 --------------------
Limited Quantity Available
-
If the item you want is SOLD OUT, please send us an email at the contact form below & we'll let you know when it's back in stock or sold out permanently. Be sure to include the specific details of the item you want.
Note: You can track your order using the "Order Look-up" link on the Home Page
Order NOW to get FREE SHIPPING!