Features/Benefits:
Slims face
Electronic micro-vibration massages face
Release negative ions
Promotes lymphatic drainage & detoxification
Tightens & smoothen face


The micro-vibration produced when the roller is turned on, is great for reducing under-eye puffiness, dimpled or double chin. Negative ions are generally used to purify the air. Negative ions naturally occur consistently in pristine rainforests. The negative ions emitted from the natural jade stone roller, purifies the pores, preventing acne or blackheads from forming, when used regularly. The stone is a rose colored genuine Jade. The jade face rolling beauty technique is a well-kept beauty secret, that was started by the ancient orientals. This jade face roller comes in your choice of four colors in a beautiful gift box.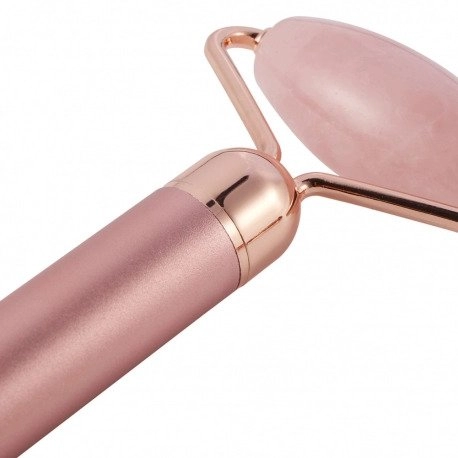 Specifications:

Function: Negative ion
Electric or not: Yes
Style: roller type
Type: micro-vibration
Product size: 15.5cm or 6.1 inches
Gift box size: 19.2cm X 10cm X 4.2cm or 7.55 X 3.93 X 1.65 inches
Power supply: AA Battery
Color: Gold, Silver, Rose Gold, Coffee
Product material: zinc alloy + aluminum material + ABS + natural powder crystal jade




One Face Massager Stick
Two Roller Heads
(Battery not included}
-------------------------------
Limited Quantity Available
If the item you want is SOLD OUT, please send us an email & we'll let you know when it's back in stock, or if it is permanently out of stock. Be sure to include the specific details of the item you want.
Note: You can track your order using the "Order Look-up" link on the Home Page
Order NOW to get FREE SHIPPING!