Ionic Anti-Frizz Hair Brush
92% Of People Buy 2 Or More Brushes!
Say GOODBYE to frizzy, static, and fly away hair!
Having a bad hair day? No Worries!
Our ionic Anti-Frizz Hairbrush is portable, compact, gentle and effective!
The hairbrush emits negative ions into your hair to restore the balance of ions, which makes your hair shiny, smooth, frizz-Free and manageable. It's time for some lustrous, sheen hair to make you feel confident.
WHAT CAN THE IONIC ANTI-FRIZZ HAIRBRUSH DO FOR MY HAIR?
"Is paying more for an ionic hairbrush worth it?" is a question many woman ask. What are the benefits that you get from an 'Anti-Frizz' hair brush that you don't get from an ordinary hairbrush?
Apart from frizz-free, static-free and fly away-free hair, expect smoother, softer and more manageable hair that has plenty of sheen. The unique ionic technology developed for the ionic Anti-Frizz Hairbrush, is also better for your hair and kinder, so it helps to reduce the damage. The negative ions seal hair, closing off broke hair cuticles and smoothing out split ends. These ions also lock in moisture, so hair is better hydrated.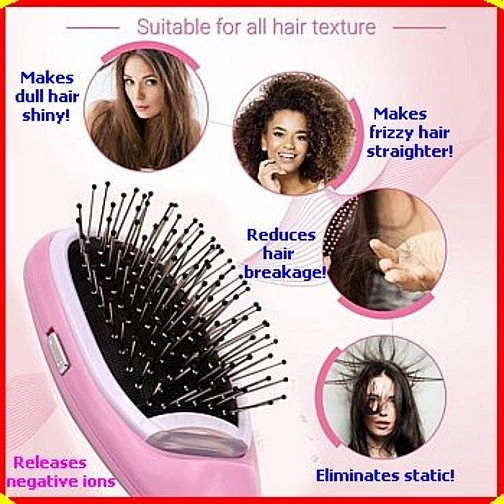 FEATURES & BENEFITS
Seals And Smoothen Split Ends: The negative ions bond help to close and seal broken hair cuticle.
Makes Hair Softer And Shinier : Ionic hair brushes lock in moisture to hair strands. The result is a shiny, soft and healthy hair.
Reduces Drying Time: Ionic brushes are ideal for women who want to have great looking hair on the fly. They dry hair faster by dousing water molecules to fall to the shaft much faster.
Minimizes Heat Damage: Ionic hair brushes speed up hair drying time, so you're least likely to end up with bumed hair or scalp.
Eliminates Frizz: Most importantly, Ionic hair brushes bring back the lost negative ions to your hair, which helps to eliminate frizz and reduce static.
No more frizzy un-tameable hair.
Get straight, high-shine hair.
Perfect for those bad hair days.
Portable size that you can take with you anywhere.
Negative ions freshen hair.
Massage feature massages scalp for hair growth.

Material: ABS Plastic +Stainless Steel
Color: Pink, Black, Purple
(batteries not included)
-------------------------------
Limited Quantity Available-
If the item you want is SOLD OUT, please send us an email at the contact form below & we'll let you know when it's back in stock or sold out permanently. Be sure to include the specific details of the item you want.
Note: You can track your order using the "Order Look-up" link on the Home Page
Order NOW to get FREE SHIPPING!